Welcome to a Powerful Partnership Between Intelivideo & Pike13!
Intelivideo is excited to announce our partnership with Pike13, a cloud-based scheduling and client management platform.
Together, we help fitness clubs and studios build a long-term hybrid business.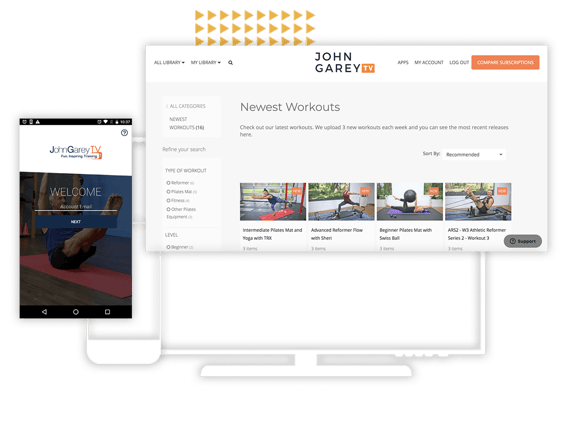 Leverage Pike13's cloud-based scheduling and client management platform to help take some of the day-to-day administrative burden off your team, allowing you to focus your energies on supporting your clients and members. The Pike13 software platform has a user-friendly interface that offers everything you need to run your fitness business your way while cutting-out all the other noise that makes administration confusing and time-consuming.

With the seamless integration between Pike13 and Intelivideo, you can use Intelivideo's Video On-Demand and Livestreaming platform to 'go hybrid' and offer premium, on-demand, or live digital fitness content for a unique at-home or on-the-go fitness experience. Looking for just a branded website and a way to upload and categorize your fitness videos? No problem – Intelivideo can handle that. Do you want iOS, Android, AppleTV, Roku, and Amazon FireTV apps that will allow you to meet your members where they want to exercise? Intelivideo has you covered there too.
Why Intelivideo?
Intelivideo is a digital video platform that enables fitness operators to transform their business into a hybrid model. We enable gyms, health clubs and, fitness businesses to provide premium Video On-Demand and Livestreaming solutions for their members. Our mission is to help operators hybridize their offerings to compete with disruptive, direct-to-consumer digital fitness companies.
Whether just beginning your club's digital fitness journey or you are upgrading from your temporary 2020 solution, Intelivideo will be able to help you create a premium, sophisticated and engaging digital fitness experience in about a week
OUR THREE PILLARS
| | | |
| --- | --- | --- |
| TECHNOLOGY | SERVICES | EXPERTISE |
| Proven, scalable solution with the flexibility to support both independent operators and global enterprises. You're on every device! | Customer Success Manager dedicated to your digital business and marketing success team's 7+ years of experience for higher member conversions & stronger retention. | Intelivideo's Content & Production team will work closely with you to address the most important content elements that complement your in-club offering while helping you design a long-term and engaging digital fitness content plan. |
Want to Learn More?
Schedule a brief online demo with an Intelivideo team member to learn more about our platform and see how other fitness operators have successfully hybridized their fitness business with us.